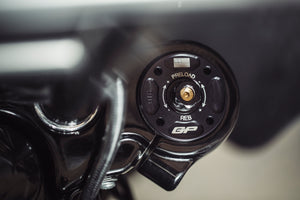 We've taken our GP Suspension 25mm cartridge kit that has helped national level racers get to the top step of the podium and changed the valving, spring rate, and travel to turn your dyna into a dream. We know that good suspension starts with a hydraulic system capable of absorbing every irregularity of the pavement your riding. We've spent decades working with top level racers to perfect our system. We've never outsourced any of our machine work or engineering. Everything in your front end is wholly American made in Ventura, CA, and we are proud of this. The end result? More traction, more comfort, and most importantly a ride that really puts a smile on your face. We take every rider's weight, and their style of riding into account when we build their kit. We know that setup is key to good suspension, and we take pride into giving every rider a kit that is custom made for them. Whether you want a buttery smooth ride to cruise your bumpy home roads, or you want a ride on rails that can take the abuse of a track day. We have you covered.
Our kit is fully adjustable (preload, compression, and rebound). These adjustments can be found on your new fork cap. Some riders prefer to set it and leave it, while some riders like to tinker between setups. Either way, we are a call away for all your setup questions.
Pricing includes a spring set selected by our setup technician based on your riding information.
006-25125-208